Corporate Assets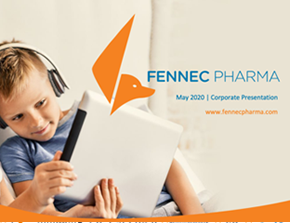 Fennec Pharmaceuticals Corporate Presentation, February 2022
Literature References
Clinical Studies
Pivotal Trial: COG Study ACCL0431
Freyer DR, Chen L, Krailo MD, et al. Effects of sodium thiosulfate versus observation on development of cisplatin-induced hearing loss in children with cancer (ACCL0431): a multicentre, randomised, controlled, open-label, phase 3 trial. Lancet Oncol. 2017;18(1):63-74.
Pivotal Trial: SIOPEL 6
Brock PR, Maibach R, Childs M, et al. Sodium thiosulfate for protection from cisplatin-induced hearing loss. N Engl J Med. 2018;378(25):2376-2385.
Cisplatin-Induced Ototoxicity
Bass JK, Knight KR, Yock TI, Chang KW, Cipkala D, Grewal SS. Evaluation and management of hearing loss in survivors of childhood and adolescent cancers: a report from the Children's Oncology Group. Pediatr Blood Cancer. 2016;63(7):1152-1162.
Khan A, Mubdi N, Budnick A, et al. The experience of hearing loss in adult survivors of childhood and young adult cancer: a qualitative study. Cancer. 2020;126(8):1776-1783.
Rajput K, Edwards L, Brock P, Abiodun A, Simpkin P, Al-Malky G. Ototoxicity-induced hearing loss and quality of life in survivors of paediatric cancer. Int J Ped Oto. 2020;138:110401.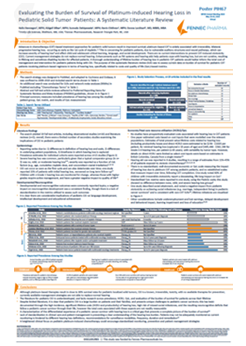 Hennegan K, Silber A, Dehipawala S, Chithran K, Lockhart D. Evaluating the burden of survival of platinum-induced hearing loss in pediatric solid tumor patients: a systematic literature review. Poster PIH67. ISPOR Annual Meeting 2020;May 13-20, 2020.
PFDD Meeting Video, September 2018